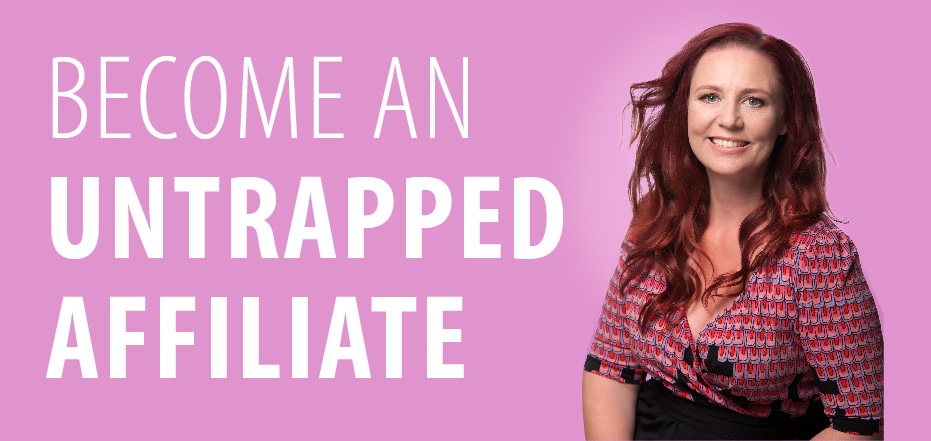 The UNTRAPPED Affiliate program offers a select group of health professionals the opportunity to become part of an amazing community who are working to change the world.

Are you a health professional who specializes in the Health At Every Size, anti-diet approach? Are you 100% untrapped from the weight-focused industry?
Do you love what you do, and desire to do more?
Would you like to offer your clients a high quality, comprehensive training program -alongside your work with them - to complement and deepen their change process?
Then join us as an affiliate of the UNTRAPPED program!
Who is This For?
You might be a body positive personal trainer, super excited about what you do, but feeling a little 'out of your depth' with some of your client conversations about their body image struggles or relationship with food.
You might be a non-diet dietitian/nutritionist, feeling okay about helping people with their relationship with food, but sometimes shaky around talking about body image, exercise, or weight stigma.
You might be a psychologist or counselor, completely capable with issues of body image, but less confident with food and exercise topics.
As health professionals it's hard to be well-versed and fully steeped in everything. And this is where UNTRAPPED comes in. UNTRAPPED is the world's most comprehensive online anti-diet program. Featuring expert input from recognized size-friendly leaders in multiple health professions, you can be confident that your client will be getting the very best, most comprehensive, help available.
Sending your client to UNTRAPPED does not replace the work you're doing with them – it enhances it. UNTRAPPED offers resources beyond books or videos – it's a real, vibrant community of anti-diet individuals. Sending your client to UNTRAPPED will supercharge their change process, and demonstrably deepen your connection with them and the impact of your work together.
How It Works
If you are selected as an UNTRAPPED affiliate, any time a client of yours signs up to the program you'll receive a generous payment. The more clients you sign up, the more payments you can collect. More importantly, you are contributing to growing the UNTRAPPED community. You're offering your clients access to the most highly skilled and recognized experts in the anti-diet world. You're making the world a better place!
Find Out More
To enquire about becoming an UNTRAPPED affiliate, please email us at admin@untrapped.com.au. Please be aware that we are very careful about our selection criteria, and only health professionals who work from a genuinely anti-diet, weight-neutral perspective will be considered.